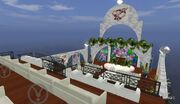 The Islands are completely blank spaces located off of Raijuku. They only come with one small floor patch for entering/exiting and a TV for youtube videos. They have the higest item count for building at 1000 making it the prime space to purchase if you are a vSider who enjoys building large and well thought out layouts. 
Ad blocker interference detected!
Wikia is a free-to-use site that makes money from advertising. We have a modified experience for viewers using ad blockers

Wikia is not accessible if you've made further modifications. Remove the custom ad blocker rule(s) and the page will load as expected.