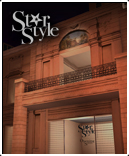 StarStyle is a store located in the shopping district of LaGenoaAires that features clothing either designed or worn by real world celebrity musicians. These include, Fergie, Sugarland, Akon, Fall Out Boy and many others. 
Celebrity Clothing
Edit
The store is split into two sections. The fron being for Rock, Pop and Urban musicians, while the back of the store is for Country and Latin musicians. 
Usermade Clothing
Edit
A rockstar clothing competition was held in which the chosen designs are now sold in the front section of StarStyle.