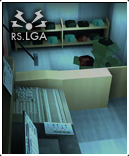 RS LGA also known as The Radio Store, is a LGA based Radio station located within the LaGenoaAires subway station. They sell a variety of music t shirts and headphones.
Famous Bands & Radio Stations
Edit
Some of the shirts that can be found in The Radio Store are for bands such as All American Rejects, Plain White T's and famous radio station KROQ.