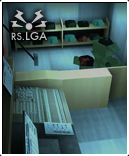 RS LGA also known as The Radio Store, is a LGA based Radio station located within the LaGenoaAires subway station. They sell a variety of music t shirts and headphones.
Famous Bands & Radio Stations
Edit
Some of the shirts that can be found in The Radio Store are for bands such as All American Rejects, Plain White T's and famous radio station KROQ. 
Ad blocker interference detected!
Wikia is a free-to-use site that makes money from advertising. We have a modified experience for viewers using ad blockers

Wikia is not accessible if you've made further modifications. Remove the custom ad blocker rule(s) and the page will load as expected.