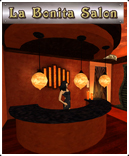 La Bonita Salon is a hair salon and spa in LaGenoaAires. It replaced an old Interscope Records themed store by the main plaza of the city. 
Hair & Nail Salon
Edit
The first floor is a hair and nail salon. vSide users can buy a slection of hair tools and nail tools/polishs and use the hair/nail stations to give each other haircuts, manicures and pedicures. In recent years, the salon section also features user designed hair, skin tones makeup and other hair and face accessories. 
Users can take a elevator, the only one in the entireity of vSide, to the upstairs portion of the building that features a bath house and sauna. There is also a rooftop lounge area.