LaGenoaAires
, also known as LGA for short, is one of the three major cities within virtual world vSide. It is home to the largest shopping district on vSide as well as being home to the vSide House of Designs and Degrassi's Dot Grill.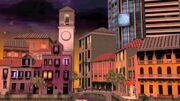 LaGenoaAires was added on along with Raijuku to already existing NewVenezia to make up the game. Although during its early years it was not as populated as staff would like, in later years the city became more popular than NewVenezia. 
Clubs & Venues
Edit
Rooftop Bar
The Dot Grill
Bar Maria
Runway @ The vHD
DDD
The Hacienda
VistaView
SkyBlueSky
Dia De Los Muertos Costume Shop
La Bonita Salon
The Dot Grill shop
StarStyle
Drezz
Kong
121
Besos
RS LGA
vSide House of Designs
Residences
Edit
La Villa Beach Houses
Luxury Yachts
LGA Tower Apartments
Dot Dorms
Ad blocker interference detected!
Wikia is a free-to-use site that makes money from advertising. We have a modified experience for viewers using ad blockers

Wikia is not accessible if you've made further modifications. Remove the custom ad blocker rule(s) and the page will load as expected.