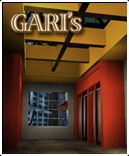 Gari's of NewVenezia is a clothing and accessories store located in the heart of NewVenezia that replaced an old sitting area. Most of the clothing sold at Gari's is intended for new users, due to their very low prices in vPoints. 
N00b Clothing
Edit
A majority of the clothing and accessories found in Gari's was designed in the early stages of vSide(then known as The Music Lounge) and vLES. Due to the quality not being as good as other stores in vSide, most of the prices are extremely low. Thus meaning that many new users often buy their first outfits here. This does not mean, however, that all of the clothing sold at nice afforable prices are bad image quality. Some of the stores most popular items are their flats for women and sunglasses for everyone. 
vSide Usermade Clothing.
Edit
Gari's has since upgraded it's catolog and now features many user designed clothing and accessories.