Club Rage is a living space/club for purchase who's lobby replaced a listening station within the entrance of the Interscope Lounge in NewVenezia. Due to its space and the fact that users item limit is incresed for building, the space is often used to make elaborate houses and clubs. 
Pre Club Rage
Edit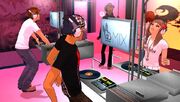 Before Club Rage was designed, it's entrance was once a listening lounge within the Interscope Lounge. Users could go in and click on headphones and listen to different sations on vSide. 
The Making Of Club Rage
Edit
With the growing number of DJ's throwing parties in their personal spaces during vSide's prime, Club Rage was introduced intended for use by vSide DJ's to make better quality club spaces.